Buildings and cities of the future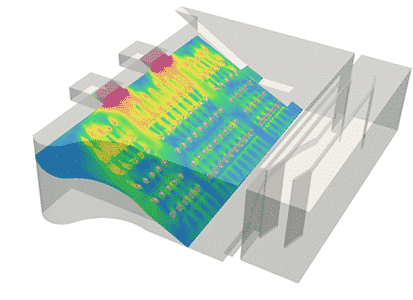 Zelin assists you in the design of your projects for building and cities of the future. The main structures concerned here are factories, clean rooms, theaters, stadiums, towers, bridges, neighborhoods or even the city.
The advent of digital technology revolutionizes the construction works. Now, "BIM" (Building Information Modeling) is becoming more and more popular, and cities are all looking to equip themselves with a "Digital Twin". These allow, for example, to perform predictive maintenance on certain buildings (bridges, buildings, churches, etc.) or even to project a city's 10-year transformation, by constructing a virtual image of the conceived changes.
The applications here include:
• Civil engineering
• Thermal comfort (air quality, ventilation, air conditioning, heating, active-passive, etc.)
• Illumination (shading, sunlight)
• Optimization of energy performance
• Pedestrian wind comfort (on a site, district or city scale)
• Fire safety
• Pollutants dispersion
• The development of digital twins for your buildings or your cities